'Stores the Road Passes Through': The Drive-In Markets of the 1920s
Retail-related space catering to the automobile became a common feature of the landscape that distinguished the Los Angeles metropolitan area from all others in the country.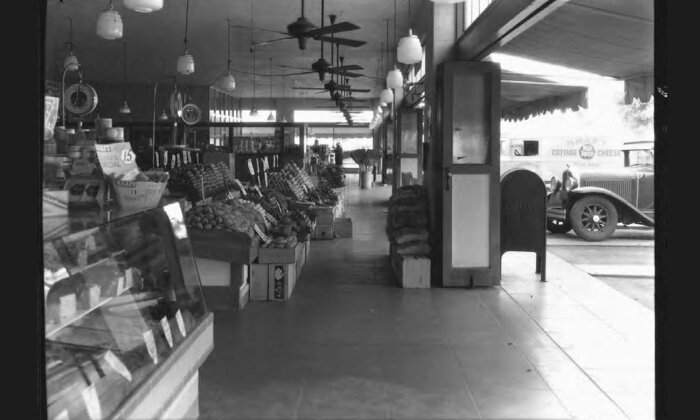 The idea must have seemed a rather odd one. In June 1923, C. L. Peckham — head of an insurance adjustment firm in Glendale, a rapidly growing middle-class residential community just northeast of Los Angeles — announced plans for developing a commercial property that broke from convention in its design, tenant structure, and siting. The project would cost $65,000, considerably more than most speculative real estate ventures sited along the metropolitan area's web of arterial routes.
Peckham had persuaded three associates, several other businessmen, and a physician to join him in a syndicate to realize the plan. He was confident it would provide a model solution to problems experienced by many investors who sought to profit from the abundance of as yet undeveloped boulevard frontage in the region.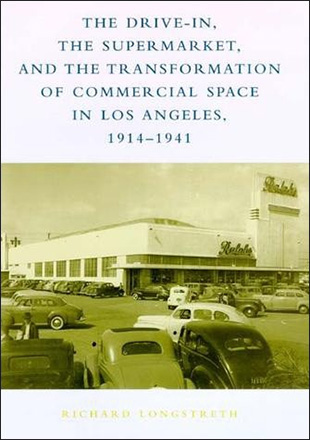 In the abstract, at least, the plan had many virtues. Merchants would be attracted by low rental rates, made possible because the property was cheap. Although the lot was large, with a frontage of 200 feet and a depth of 175, a major tenant did not have to be secured in order to maximize use of the land; small stores could line the perimeter on three sides. Even those stores placed at the rear of the lot would enjoy visual prominence since all units would open onto an expansive court. People would come to these stores, 23 in all, because the ensemble offered a full range of food items and provided for additional everyday needs as well — a range then seldom found in a single establishment, especially one outside downtown.
Equally enticing, shoppers could drive right up to the stores they wished to patronize and park in the 15,000-square-foot court. The space would be covered with white crushed granite — similar to that used by the Standard and other oil stations — and it would be illuminated after dark by spotlights. Restrooms were on the premises and a covered walkway would protect customers from the elements as they circulated from store to store.
The scheme looked quite unlike the streetfront buildings that lined the arteries of outlying areas in cities coast to coast and were usually regarded as necessary, but unattractive, features of the urban landscape. Peckham's store group had a different configuration and would stand out as a landmark.
Designed by an up-and-coming Pasadena architect, Frederick Kennedy, the exterior motifs were derived from post-medieval English vernacular sources and, together with the U-shaped form, suggested a handsome stable compound on some grand estate. The image was reassuring — quaint, ornamental, intricate in detail — and would be viewed as an asset to nearby residential tracts then being developed. The complex was given a name befitting that image: Ye Market Place.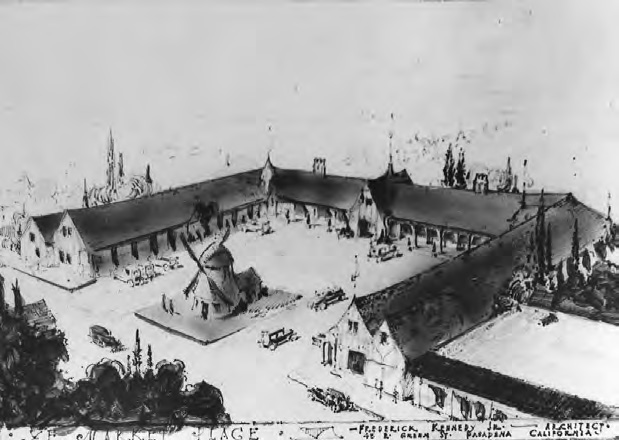 Peckham reputedly initiated the project because of his frustration at having to drive around a block two or three times in order to find a parking space while running errands. He had moved to Glendale at the turn of the 20th century when it had been a small town. The subsequent exponential growth of the community and of traffic congestion had, among many other things, made once simple tasks difficult. One did not have to be a longstanding resident to find such conditions annoying, since many motorists had recently moved from smaller communities in the central United States were driving posed no such irritations, and many others had recently purchased automobiles only to find that the machine meant to facilitate affairs caused inconveniences of its own. Peckham sensed that many people would find his alternative appealing.
Peckham also understood that conventional wisdom did not apply to choosing a location for his motorist-oriented store. The site was neither near the center of Glendale nor in a neighborhood commercial node along a streetcar line. Instead, it lay well to the south of concentrated settlement, fronting Los Feliz Boulevard, which formed a new, direct link to Hollywood and a primary route between northern and southern portions of the metropolis, bypassing downtown Los Angeles. The property also lay between Brand Boulevard and Central Avenue, the two major north-south arteries of Glendale, and near the San Fernando Road, then the principal connector between Los Angeles, the newly annexed San Fernando Valley, and points further north. Long considered marginal land, the acreage around the three proximate intersections of these thoroughfares was just becoming recognized as promising for commercial development.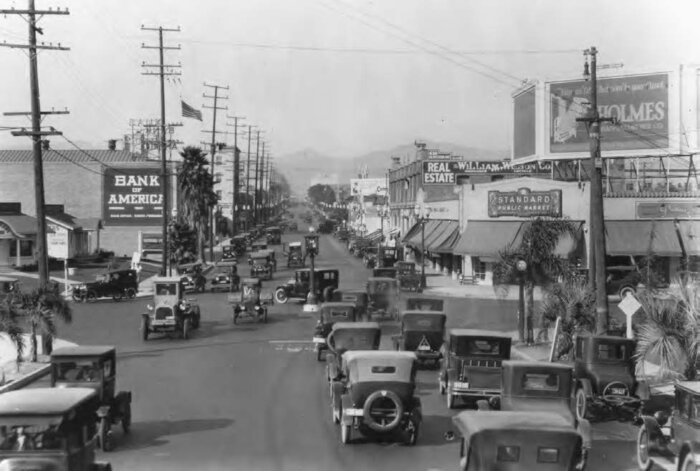 Tracts within a half-mile radius were being transformed by residential construction, testifying to Glendale's appeal as a bedroom community. But the area was not a neighborhood in the traditional sense. Subdivisions were scattered and few houses lay close to where these routes converged. Rather it was the potential trade from passing motorists that elicited the attention of investors. Twenty thousand cars daily traversed this portion of the San Fernando Road alone. Since 1921 a former Hollywood realtor, L. H. Wilson, had been arduously boosting San Fernando frontage lots for commercial purposes, prophesying that the area would become a major business district. About a year later, the sizable Gateway Market opened at San Fernando and Brand; other businesses were starting to follow.
If Wilson may have dreamed that his bailiwick was destined to grow into another Hollywood Boulevard or Western Avenue, Peckham probably had different concerns. He chose a site not in what realtors considered a nascent business center, but a short distance away where land values were not inflating so rapidly — a site that nonetheless was easily reached by car and was seen by thousands of drivers in the course of their daily movements. The profits secured from giving shoppers something they wanted could be handsome enough; the fact that by so doing one could also turn a languishing property into a lucrative asset made the prospect all the more tempting. The real estate potential perhaps motivated Peckham as much as did his shopping frustrations.
The project may have seemed too unconventional at first, for 12 months elapsed before construction began. Perhaps financing was a problem. Whatever the cause, the realized edifice was not nearly as fanciful as that originally presented. Kennedy's design was abandoned in favor of one prepared by the Hollywood construction firm of Malcolm Smith. Without modifying the layout, the new scheme was unembellished, making vague, and much less expensive, allusions to arcaded Spanish colonial buildings. But if the result had an inelegant, bare-bones character, the scheme still demonstrated how this new configuration could yield an exterior composition that was at once practical and distinct from the vast majority of retail outlets.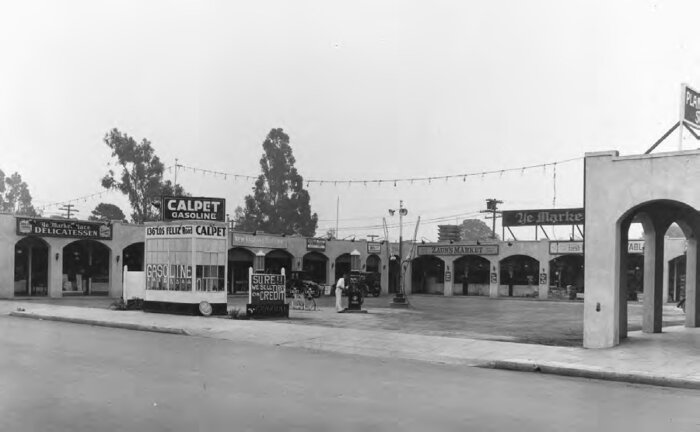 The project's business structure underwent more substantial modifications. Instead of the original 23 20-by-30-foot units, most merchants occupied a more-or-less continuous space, which was also open to the arcade and the parking lot beyond. The layout was predicated upon a consensus among the merchants not just to coexist under one roof but to integrate advertising, store hours, and other aspects of their operations. Two of the participants were long-established concerns. Young's Market Company, one of the largest food retailers in the metropolitan area, had its first Glendale outlet in the complex, selling meat, poultry, and fish. E. A. Morrison, Grocer, had its 34th store adjoining Young's. Other firms sold baked goods, delicatessen items, produce, flowers, and kitchen equipment. There was also a lunch counter, and later a filling station was added.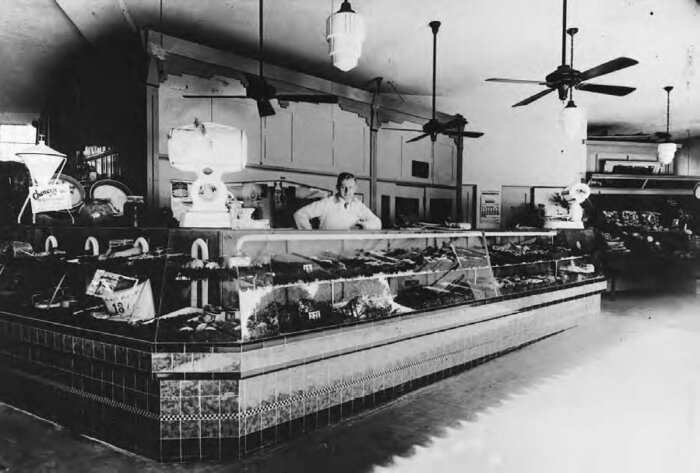 The array of goods no less than the novel layout enabled Ye Market Place to open with great fanfare. On Saturday, 24 October 1924, an estimated 40,000 people coming in 11,000 cars bearing licenses from 34 states attended the 12-hour ceremonies. The odd idea was beginning to seem like a good idea, and within a few years it emerged as commonplace throughout the region. Most of the distinctive features developed at Ye Market Place became standard for a new type, soon to be called the drive-in market. By 1928, these facilities were being constructed in Los Angeles at the rate of about a dozen a month; three years later, more than 200 would exist in southern California.
Collectively, drive-in markets played a pivotal role in transforming the methods by which consumer products were distributed beyond the realm of monkey-wrench merchandising. To many observers, these establishments represented a wholly new approach to retail development. Willard Morgan, the most prolific chronicler of the drive-in market's rise to prominence, described them as "stores the road passes through."
---
Richard Longstreth is an architectural historian and a professor of American Studies at The George Washington University. He is the author of several books, including "The Drive-In, the Supermarket, and the Transformation of Commercial Space in Los Angeles, 1914–1941," from which this article is excerpted.